Top Fun Things To Do In Charleston In November
October 21, 2022
Top Fun Things To Do In Charleston In November Article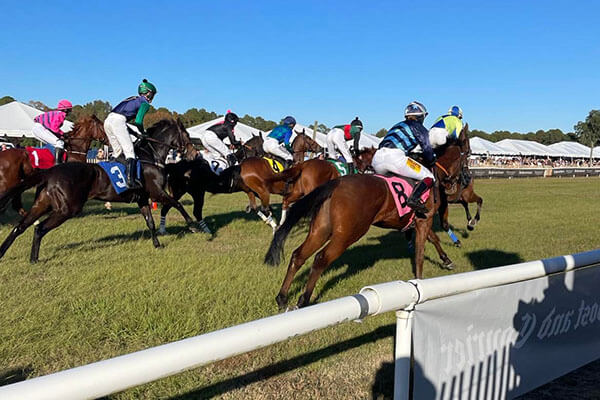 There are always fun things to do in Charleston, and November is no exception! Delightful fall temperatures and fewer tourists make November a great time of year to visit the Holy City. Smaller crowds give you the perfect opportunity to easily explore the city and all that it has to offer. Fun activities and events are also plentiful. Let's dive into a short list of our top fun things to do in Charleston in November.
Art Installation
November 5-December 11
The Charleston Parks Conservatory is relaunching the Art in the Park Program making it possible for Hampton Park to display more than 100 illuminated mushrooms! Hand-sculpted by North Carolina artist Meredith Connelly, these unique works of art will be about eight to 12 inches high and are sure to brighten your day. Make sure to check them out before they're gone!
Yallfest
November 11-12
Are you looking to channel your inner bookworm? If so, Yallfest is exactly what you are looking to get into. Yallfest, short for Young Adult Literature Lovers Fest, is an annual book extravaganza hosted in Downtown Charleston. Book lovers from far and wide will be able to learn more about new novels, listen to keynote speakers, meet featured authors, take part in giveaways, and so much more. The festival offers free and ticketed events that are priced no higher than $12. Click here for their website to find more information and tickets.
Steeplechase of Charleston
November 13
Rally a group of friends or family and spend the at the Steeplechase of Charleston. Originally opening its doors in 1792, this Lowcountry tradition is the perfect opportunity to dress up in big hats and bow ties, grab a drink, and observe some world-class horse races. The event starts at 8 am, with five races taking place throughout the day. Whether you're a horse racing enthusiast or just want to get out and mingle, the Steeplechase of Charleston is the perfect way to connect with some deep-rooted southern heritage. Click here for race times, event details, and ticket options.

Aquarium Aglow
Nov 18-December 31
Check out the South Carolina Aquarium from a whole new perspective with Aquarium Aglow. This one-of-a-kind event has quickly become a Charleston holiday tradition. Aquarium Aglow is an intricate light show that stretches throughout the aquarium. Using thousands of lights and an array of colors, the aquarium transforms its space into something truly magical. This memorable event is ticketed, with prices varying depending on the day you plan on attending. Click here for ticket options and event information.
Preservation Hall Jazz Band Pass It On: 60th Anniversary Musical Celebration
November 20
The Charleston Gillard Center presents Preservation Hall Jazz Band on their 60th Anniversary Musical Celebration tour! The New Orleans-based group will be here one night to serenade you, celebrate their anniversary, and keep the past and future of Jazz alive. Tickets start at $39. Make sure to click here to visit the Gillard Centers website for ticket options and more information.
45th Annual Turkey Day Run and Gobble Wobble 5k
November 24
Looking to get active on Thanksgiving? Look no further than the Turkey Day Run and Gobble Wobble 5k. Kicking off in the heart of downtown Charleston, this community tradition is the best way to stretch your legs and make room for those extra Thanksgiving calories. The race starts at the corner of Meeting and Calhoun and ends at the King and Calhoun intersection. Along the route, participants will pass several Charleston landmarks such as Citadel Square Baptist Church, the Historic Charleston City Market, Gibbes Museum of Art, and of course, all the spectacular historic homes that line the streets. Click here to sign up or for more information.
Whether you are a local or a visitor, we hope our blog post has inspired you to take part in some fun-filled activities in November! Be sure to come back and read more or sign up for our e-newsletter to stay up to date on what's happening and what's to come in Chucktown!