Insider tips for the Charleston Wine and Food Festival
January 10, 2020
Insider tips for the Charleston Wine and Food Festival Article
Charleston Wine + Festival 2020 countdown has begun
The moment you've been waiting for is here, the Charleston Wine and Food Festival is almost upon us. And whether you are a seasoned Wine and Food veteran or a first-time foodie, here are all the tips and tricks to get the most out of your 2020 Charleston Wine and Food season.
Stay hydrated
With the abundance of wine present at the Charleston Wine and Food Festival, it will be hard to remember to drink water. But trust us, you'll need it. If you are attending back to back events, you need to stay hydrated to prevent untimely headaches or fatigue. This is a marathon, not a spirit and water will be your best friend to get through the entire festival.
Parking
If you are familiar with Downtown Charleston, then you know it's best to leave your car behind. The city is very walkable and most of the events are close to the hub of the festival, the culinary village in Marion Square. If you need a ride, use a ride-sharing app such as lyft to catch a ride to each event. If you are feeling more spontaneous, take a bike taxi instead. You'll take the scenic route through the Holy City while learning some interesting facts about Charleston's iconic landmarks from your Bike Taxi Driver.
What to wear
In Charleston, it's always better to be overdressed than underdressed. Luckily the Charleston Wine and Food Festival website includes a dress code for each event. But the general rule of thumb for Charleston is Low Country Casual or Resort Casual. This means polo style shirts, sundresses, linen pants, skorts, skirts, button-up tops, nice shorts, and dresses. If you still are unsure what you should wear, just look at photos from past Charleston Wine and Food events for inspiration.
Weather: Rain or shine
While all the events will occur rain or shine, thankfully some of the outdoor events will have tented spaces available if you need shelter from any unexpected showers. The saying goes if you don't like the weather in Charleston, just wait 30 minutes, but play it safe by packing a small umbrella or wearing water-resistant shoes.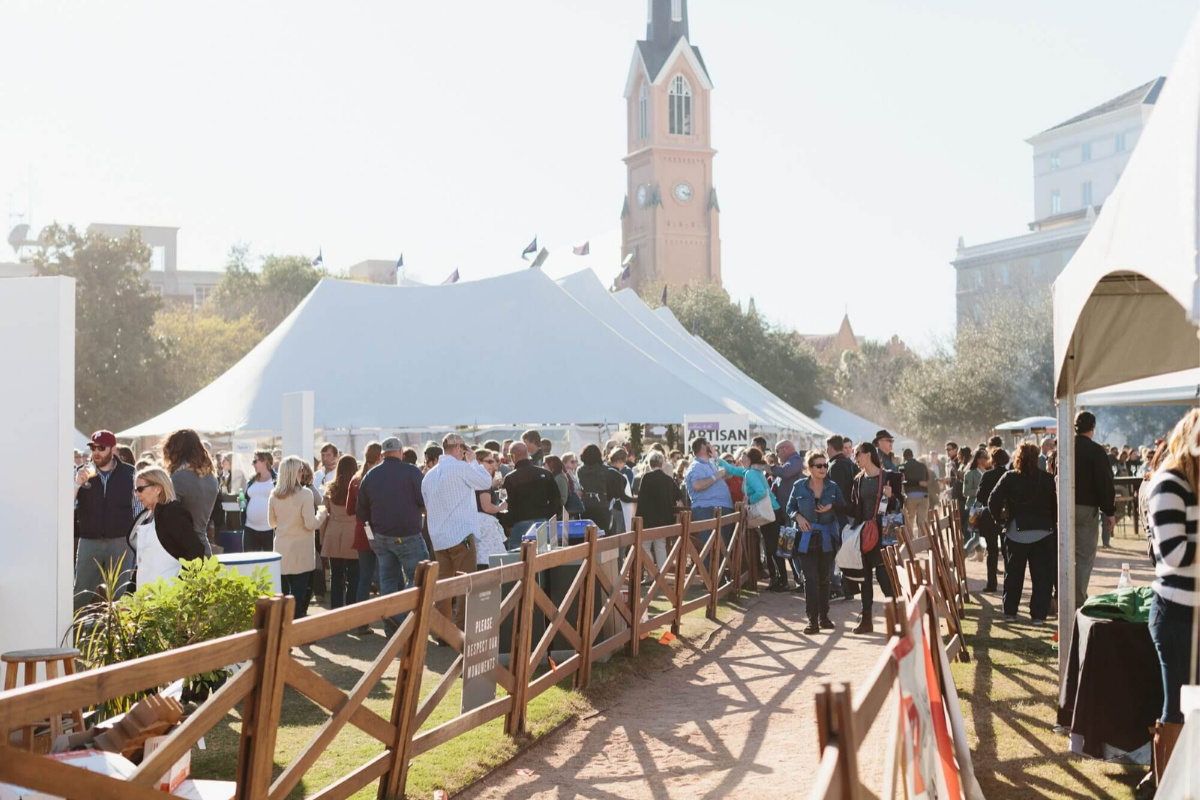 Be fashionably early
Arrive 15 minutes early for the events to checked in and seated before the event starts. Nearly all the events at the Charleston Wine and Food Festival are completely sold out, so it's better to be fashionably early than late.
Need help
Don't be afraid to ask if you have any questions before, during or after the event. Charleston Wine and Food Festival will have plenty of volunteers and trained staff members present to answer any questions you may have.